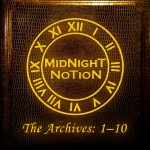 What started as an experiment to revive some "old" songs soon became the first installment of a project album series called "The Archives". By 2008, Bryce Kalal (as Midnight Notion) had already written about 70–80 originals that had not yet been heard by anyone other than his closest friends. He challenged himself to record the first 10 songs—all of which were written when he was much younger—and produce them as if they were brand new. The end result far exceeded his expectations, and inspired him to plan for future releases of The Archives series.
The Archives: 1–10 features upbeat pop-punk songs about teenage love and loss, like "Girl of My Dreams", "Roses", and "7 Nights". Each song is notably different from the last; from the sing-along ballad, "When the World Falls Apart", to the fan favorite, "Slipping Away", which gives hard rock/metal lovers a chance to bang their heads.
Tracklist:
Album Notes:
Midnight Notion is:
Bryce Kalal – Vocals, Guitar, Bass, Keys, MIDI
Produced, Engineered, Edited, & Mixed by: Bryce Kalal
Recorded & Mixed at Kalal Productions, Lakeville, MN from February 2008 to December 2008
Acoustic guitar on "Karen" recorded at IPR Studio 2, Minneapolis, MN in July 2007
Engineer: Josh Levi
Cover art by Bryce Kalal
All songs written and performed by Bryce Kalal
℗© 2008 Midnight Notion. All rights reserved.
Digital Re-Release © 2013 CD Baby Publishing
Trivia:
All of the drums on this project album were programmed MIDI drums. Bryce drew every single beat from scratch, and adjusted them by hand. "Loser" is unique in that it was the first song he was able to program with a keyboard, essentially "playing" the drums on the keys, instead of clicking and dragging every note.
"When the World Falls Apart" and "Girl of My Dreams" were previously recorded in 2004 by Bryce's high school band, Rascality. The demo was called A Day At the Fair, because Rascality played its first gig at the Dakota County Fair.
In 2008, the album was available as a free download on midnightnotion.com, and included a .pdf document with the lyrics to each song, and additional album notes, thank you's, etc.